by André
We often hear that researchers are detached from reality and trapped in ivory towers. Well, to prove all this wrong, this year to celebrate its 175th anniversary, during the Dies Natalis, TU Delft granted a PhD honoris causa to Manuel Alvarinho of CRA for his groundbreaking work in the water and sanitation sector in Mozambique and we could not be happier.
Alvarinho was one of four persons receiving the PhD together with Andrew Endy (Stanford University, USA), Xiaowei Zhuang (Harvard University, USA) and Alessandro Vespignani (Northeastern University, USA), and you can read about the whole ceremony here.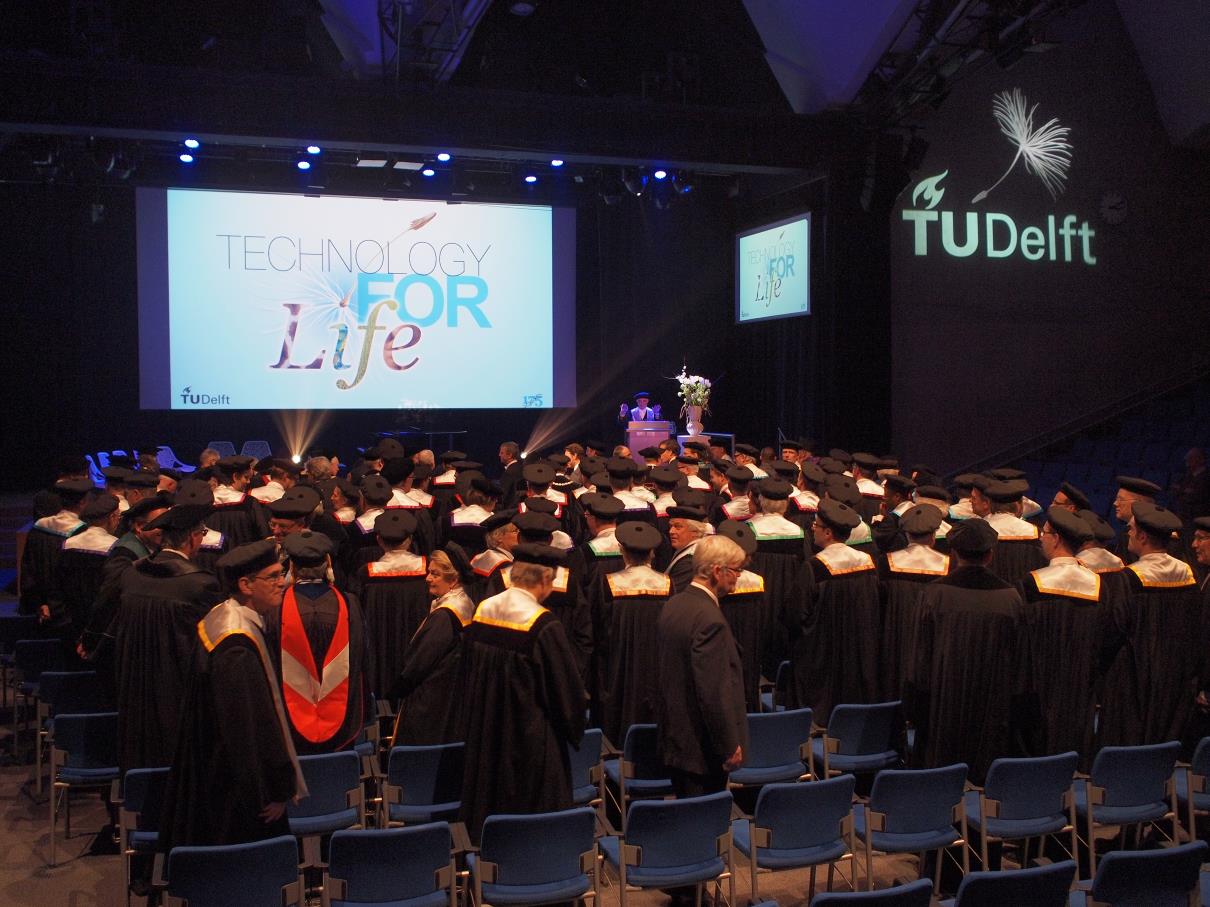 Everybody getting ready for the PhD ceremony.
Alvarinho IS a central figure in the water and sanitation sector in Mozambique and has been, directly or indirectly, involved in every single change that was operated in the sector since the country's independence. It is difficult to accurately quantify Alvarinho's impact but we can easily assumed that the lives of millions of people have been improved with his work. Here's what Luuk and Huub have to say about Alvarinho's work (from 4m10s):
[youtube]https://www.youtube.com/watch?v=QSDKbtvsap8[/youtube]
In the last decade Alvarinho was responsible for the creation of CRA (the regulatory body for water and sanitation) and of AQUASHARE, a Mozambican platform that brings together practitioners and service providers of the water sector; I mentioned them before.
In the Netherlands Alvarinho had a quite busy week. On Thursday (12 January) afternoon he gave a presentation during the seminar Health and Technology: health and technology; and you can watch the seminar on TU Delft's collegerama. Then, on Friday (13 January) morning he gave a second presentation during the 2017's Vakantiecursus. In the afternoon he was then awarded the title of PhD honoris causa.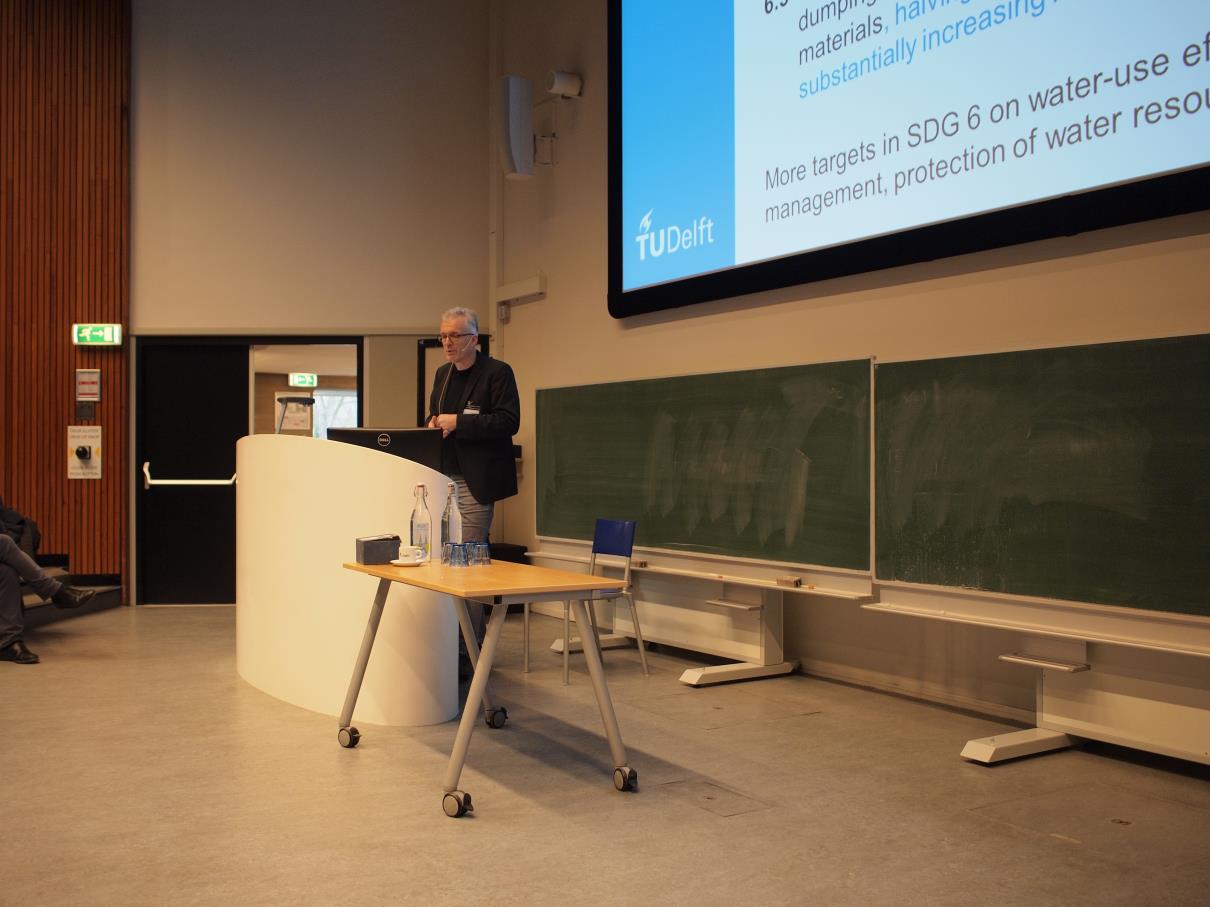 Gertjan Medema (TU Delft) giving a presentation during the seminar Technology for life: health and technology.
Both presentations were both good but I personally think that his Vakantie Cursus' presentation was the best and quite thought provoking. You can download both his presentations here (seminar) and here (Vakantiecursus).
Then, back in Mozambique he was also kept busy. Last week during a ceremony at DNAAS (3 February), in Maputo, in the presence of the Mr. Carlos Bonete Martinho (Minister of Public Works, Housing and Water Resources) and of Mr. Nilton Trindade (National Director of Water), the Mozambican water sector had the opportunity to honor Alvarinho's work.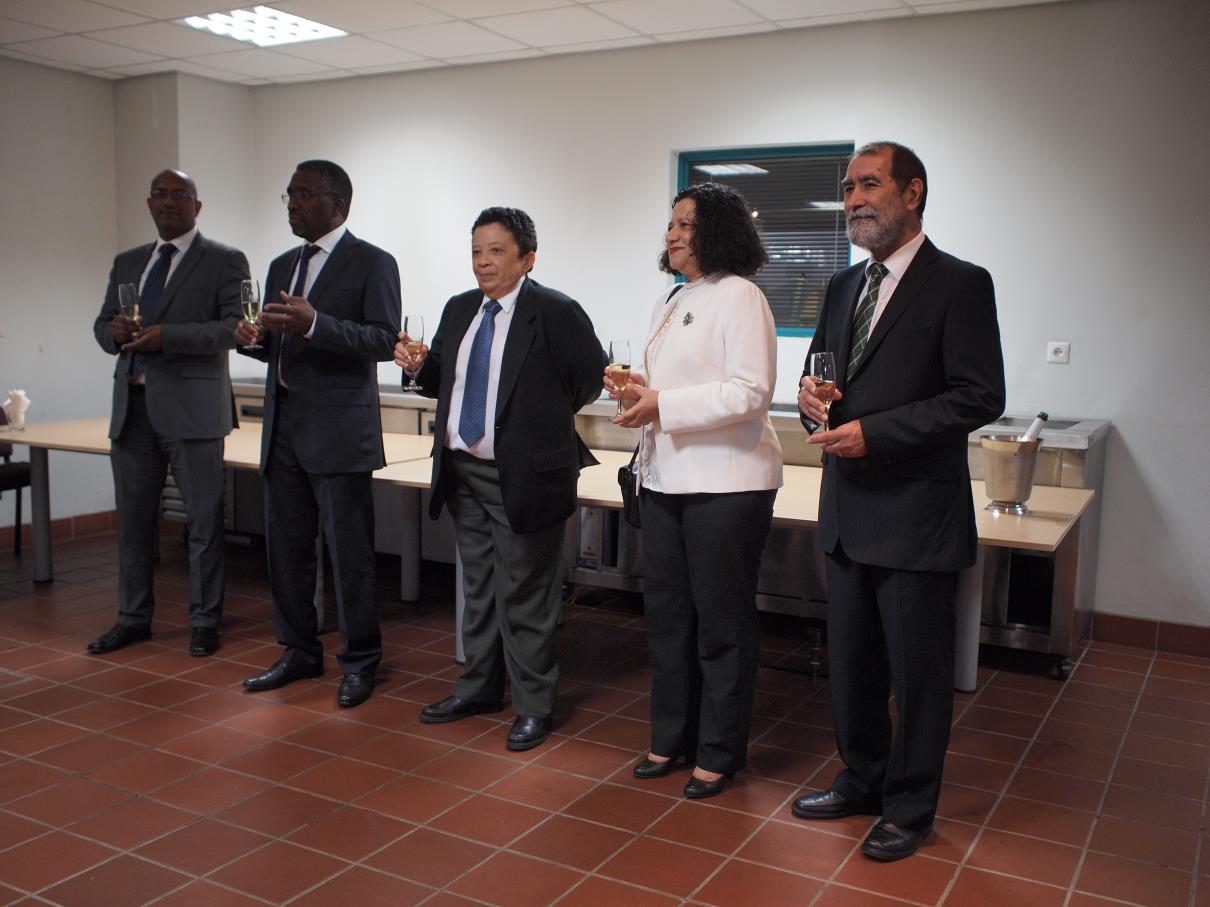 Alvarinho being honored at DNAAS.
You can watch a short piece here (in Portuguese):
[youtube]https://www.youtube.com/watch?v=3uITQPacv3s[/youtube]
As if all this was not enough, Alvarinho was then interviewed on National TV about the serious drought that is currently affecting the South of Mozambique, Maputo included. You can watch it here (in Portuguese):
[youtube]https://www.youtube.com/watch?v=PDBLKtYC3tU[/youtube]
Needless to say, I am (and we all are) really proud of his achievement and it's great to see such a renowned University recognizing Alvarinho's work as groundbreaking and life changing. Nevertheless, I must say that this is not really a surprise to me: we have, since the beginning of our project, back in 2014, cooperated closely with Alvarinho and with CRA. Alvarinho has often endorsed our water reclamation project and showed his interest in being involved in these "new agendas". From the moment that you meet him you realize that, despite being very practical he is also very interested in any innovation that can support Mozambique, and other developing countries, to leap frog development.
We are now looking into having a closer cooperation and you should be reading about this in the upcoming weeks. I am also planning to make public an interview that I made of Alvarinho last November, this should also be available any time soon.