by Jesper
Travel and arrival
On Friday 3rd of June we arrived happy and healthy after a long flight with very extensive meals served by our friends from Turkish Airlines. Our stops in Istanbul and Johannesburg had both been very smooth. We boarded our final plane and set foot on Mozambican ground for the first time. We are a group of three master students all working on our thesis. Our backgrounds however are very different. Iana recognized a lot of things from the place where she lived her childhood in Brazil and she can communicate very well with Mozambicans since she speaks Portuguese fluently. Jay-El also explained that the climate and general atmosphere reminded him of his home country the Philippines. For me, Jesper, as a Dutchman, everything about Maputo is very new and different from the cities and countries that I know.
Our residence
After a short taxi ride to our residence we arrived in a sunny street with a bank and a small shop 'First Choice' with fresh coffee and breads. In the lobby of the residence we were greeted by our 'buddies' Cadafi and Gercia, two students who work with the cooperation office of the UEM. They showed us to our rooms and explained about our shared facilities. We have two rooms, one for Jay-El and Jesper and one for Iana, the apartment is shared with four friendly Mozambican students.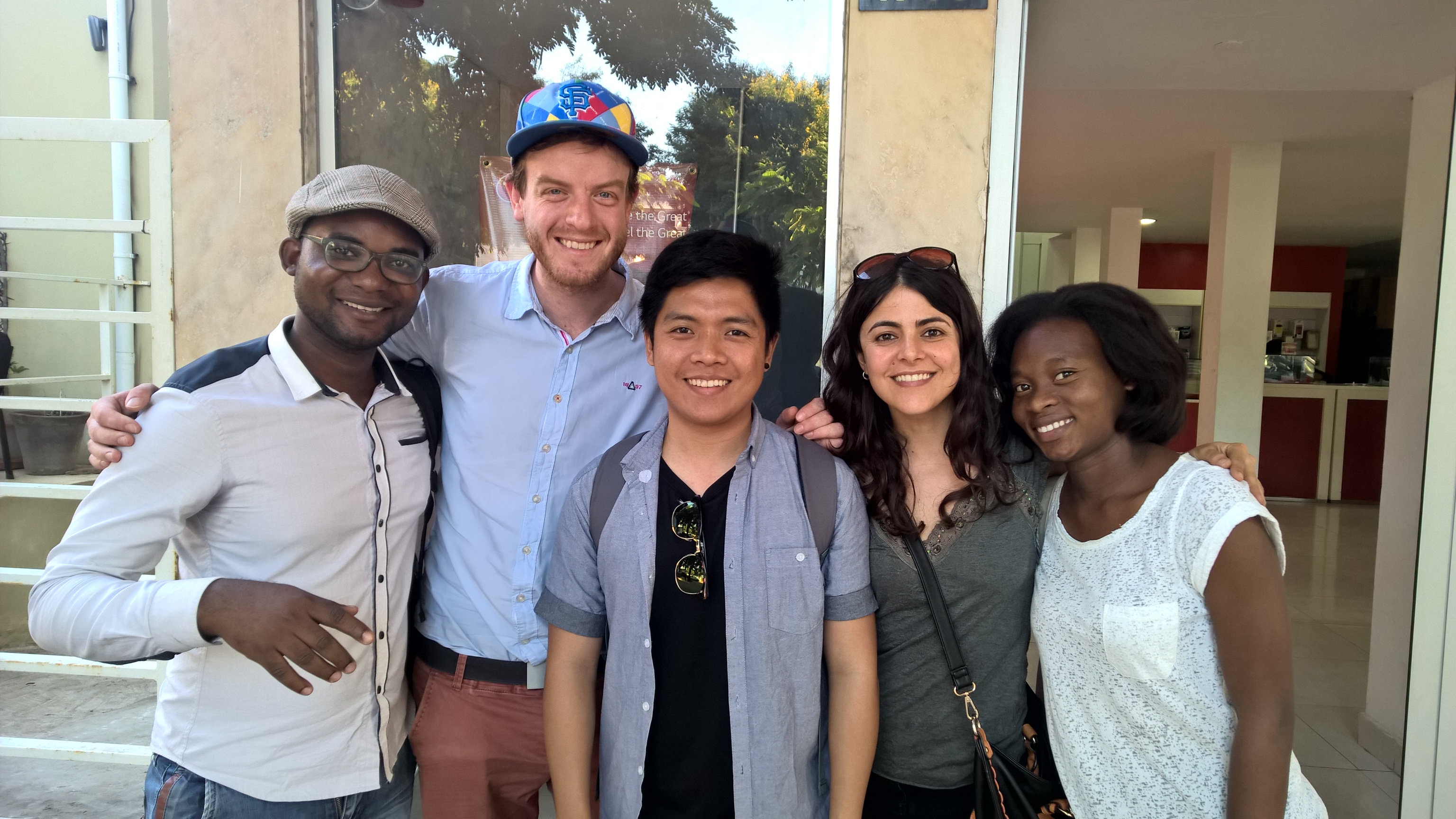 Getting along with our buddies.
Then they asked if they could be of any assistance and offered to help us get SIM cards with mobile data network so that we could access the internet. After we got a photocopy of our passports and set up our registration at the Vodacom shop we quickly connected to internet and were able to let everyone know we had arrived safely. Of course we took a group picture with our newest friends, before we went back to our residence where we could relax and unpack our bags.
Discovering Maputo
After a very big meal at the student canteen in our residence it was time for our first good night in our new home. The next day we set out to explore some of the city of Maputo.
We visited two modern shopping malls, walked alongside the boulevard Friedrich Engels and the beach with a beautiful view over the Indian ocean. We wanted to try the local foods and visited the Miramar restaurant and had our first real Mozambican sea food experience with a sea view. Afterwards we walked on to the Mercado do Peixe the biggest fish market of Maputo, where a group of ten very enthusiastic man tried to convince us to come and have some food in their restaurants. Finally we had two very nice plates of shrimps and squids with homemade piri-piri sauce.

Walking along Avenida Marginal do Mercado do Peixe.
On Sunday we had some unexpected and very mild rain, which reminded us of the Netherlands. At night we visited the Núcleo de Arte, a local art gallery that is opened on Sundays with Mozambican musicians performing live. Since we are now in Africa, we did as Africans do by drinking a few 2M beers and dancing to the rhythms of the drums.
Universidade Eduardo Mondlane
On Monday we met Eneas, the building manager of our residence, to arrange our contracts and gain access to the internet in the study room. After meeting Eneas we ran into our buddy Cadafi and his cousin Claudio by coincidence. Iana and Jay-El suggested visiting the UEM campus to see the library. Cadafi suggested that we could meet Delio Zandamela, the head of the UEM Cooperation Office, who had prepared our stay at the residence and supervised the welcome we received from our buddies. Delio was very friendly and explained that the cooperation office has selected some student that help international students. Also he offered to help us in case we need any assistance.
During the rest of the week we used the study room in our residence to work on our individual projects. By discussing our progress, plans an problems we are also trying to help each other. Next week we plan on visiting the Engineering Faculty of EUM and start arranging interviews with local specialist to start the gathering of information for our projects. We will write more in-depth about our objectives and developments in our upcoming weekly updates on this website.
Internet, water and banking troubles
The first few days in Maputo had gone smoothly. But then some minor setbacks happened. The internet in the study room in our residence did not allow our computers to access, because of an exceeded amount of IP addresses. Additionally, the registration of our local SIM cards where rejected and had to be re-submitted. Luckily our buddy Cadafi was there to help us get a new registration and Eneas contacted an Informatics student and professional technical assistance to provide us with internet on our laptops.
On Friday night we noticed that the water in our building does not have a 24 supply. However during the daytime we have always had service. In our second weekend we encountered another interesting malfunctioning, apparently on some weekends the international banks do not provide connections to accounts for withdrawing money. The consequence was that we ran out of money early on Saturday. Luckily we met a couple of expats working in Maputo one of whom Iana knows from Brazil, who were kind enough to provide us with a small loan.
The people we met
During the week we have met various people with many different stories. Of course we met our roommates, it happens that two of them are the president and the treasurer of the local student association. Additionally, we meet several very friendly students both in the canteen and in study room in our residence. They told us about their studies, their goals and about Mozambique and its many challenges. During the week we met several Portuguese, Brazilian, Italian and Filipinos expats, teachers and the owner of the coffee shop next door. In our second weekend we met Iana's friend Laura and her friends that are living in Maputo. These people are all working in international organisations and could tell us many interesting things about how Mozambique is developing and the difficulties that many of these organisations are facing. Since some of them are working on projects that are related to freshwater and sanitation, these new informal contacts might prove very useful in the upcoming months.