By Jay-el
Our second week has simply been a study-filled week. The routine just goes back and forth from eating at SELF canteen or at our favorite 'First Choice' café, and studying at SELF study room. But of course, we still manage to discover new places, meet new people, and keep keep-up with new friends.
Meeting Nelson
We planned to meet Prof. Nelson Matsinhe on the first week of our arrival. However, he had a meeting in South Africa so we met the following week instead. Our meeting was set at 11.00 but we did not want to be late so we decided to leave at SELF at 9.00. His office is at the Faculty of Engineering, at a different location from the main campus we visited last week. At first we were thinking of walking but thankfully we took a cab to travel the 5 km distance.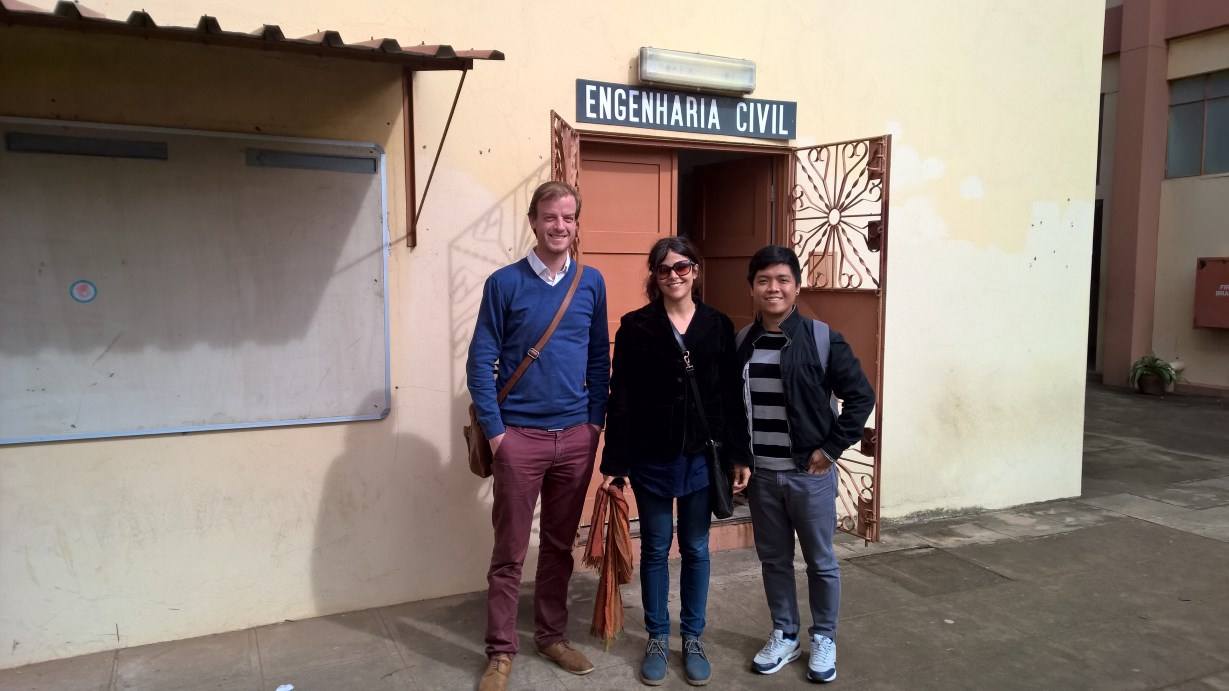 Visiting Nelson at UEM's Department of Civil Engineering.
Upon arrival at the Faculty of Engineering, we immediately tried to find our way to Nelson's office. It was still quite early but we just wanted to be sure where to look for him. As a newbies in the area, we asked the students where the Department of Civil Engineering is was located. One student, named Armando, enthusiastically directed us to the secretary's office of the Department of Civil Engineering. We were then introduced to the Department Head Prof. Doutor Daniel Baloi, and had a short welcoming meeting. He has interesting stories on how the Department had been involved in several projects with the Dutch institutions. Also, we knew that Prof. Luuk Rietveld had spent 5 years of being a faculty member at the same Department. We still had spare time of about an hour, as Nelson had ongoing lecture class, so we were escorted by the Secretary to library to work for a bit while waiting.
When we met Nelson, he was still being chased by his students even after class. Apparently, the exam period was soon so the students are keeping him with more queries. We finally talked to him after about an hour but, he cheerfully welcomed each of us. He was telling stories about his meeting in South Africa and how cold it was there. It was really a light atmosphere talking with him. He then asked about the individual topics we are working on. He gave his immediate thoughts and his possible contribution towards the topics. Since he wanted to be more specific about the help he can extend to us, he invited us for another meeting where we should present our project in more detail.
At dinner the same night we met Armando again, who was very interested about the Dutch know-how regarding water management. He asked Jesper to explain the saying "God created the earth, but the Dutch created the Netherlands." He additionally referred us to the DNA's office (the National Directorate of Water) and offered to introduce us there since he thought it might be useful for you our research projects.
Attendance at the United Nations meeting
Iana was invited by a friend to participate in a meeting at UN-Habitat. The purpose of this meeting was to gather diverse institutions working in the field of Urban Resilience in Mozambique, in order to keep track of the objectives and progress of their projects. She realized that it is difficult to arrive at an agreement about the definition of Urban Resilience and one of the final suggestion was to develop an institutional mapping to better visualize the perception of the different institutions. One of the main projects within urban resilience is about climate change adaptation. Unfortunately, very little was spoken about the issue of water supply and sanitation in Maputo. However, she got the contact details of one of the representatives of the World Bank who finances water supply and sanitation projects for the city of Maputo. Also it was interesting to find out that the head of UN-Habitat in Mozambique is a TU Delft alumnus.
Doing the laundry is not that easy
It was an interesting experience for each of us doing the usually taken-for-granted-everything-automatic laundry washing. The SELF system for washing is that you have to get the key and machine token to a certain guy to be able to use the washing machine. Before knowing this system, Iana already did her laundry manually using bar soap and the corrugated concrete. Jesper found it funny knowing about the use of bar soap, which he said to be such a very old way. But for Iana and I, bar soap is still normal and currently used in our respective countries. Jesper and I did our laundry using the machine, and I guess now we are well acquainted with the system. Also, the laundry place is located at SELF rooftop (9th floor). So either manually or automatically, doing the laundry is not that bad having the view of Maputo city and the Indian Ocean.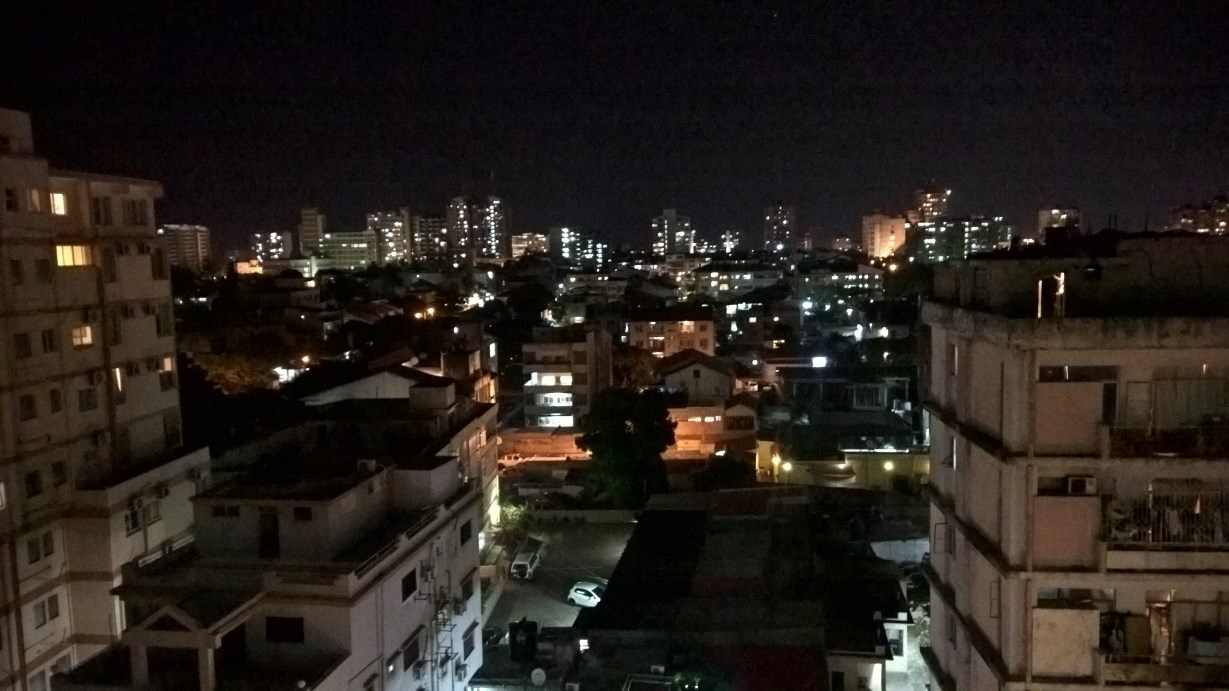 Maputo at night from SELF rooftop while checking our laundry.
Home away from home
Never had I expected to see Filipinos in this part of the world. But one night when we were having dinner at Piri-Piri restaurant, a Mozambican souvenir vendor, Leonel, recognized me as a Filipino. To my surprise, he told me that there are Filipino sailors regularly visiting Maputo as their ship docks. Leonel also told me that there is even 'Manila Bar', a Filipino bar located at Feira Popular. At that moment, he suddenly called the owner of the bar and got us connected. Apparently, aside from sailors there is also a huge number of Filipino teachers in Maputo, teaching at international schools.
Last Sunday, together with Jesper and Iana, I was introduced to the Filipino Community in Mozambique (FILCOMOZ) as we all attended the celebration of Philippine's 118th year of Independence. It was a night of singing, dancing, and eating, which all of us enjoyed. With over a hundred Filipinos in one hall, it was a surreal moment that I felt I was really home—familiar music, recognizable dance steps, and tasty food I really missed. Next time I will make sure Jesper and Iana will have a karaoke experience at 'Manila Bar'.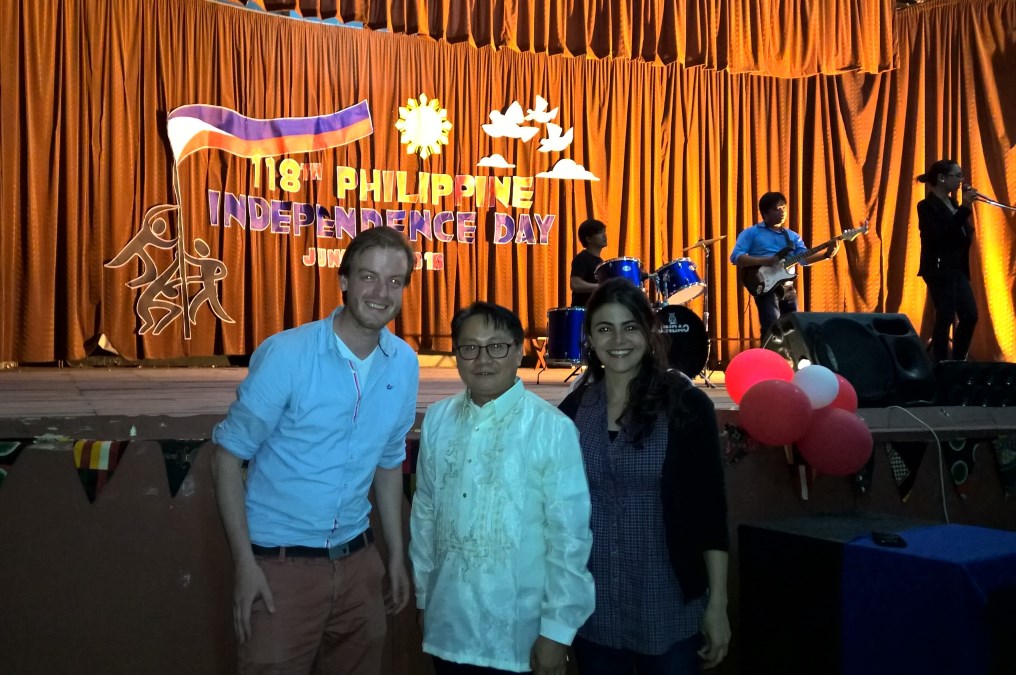 Jesper and Iana being introduced to Filipino culture at the Philippine Independence celebration by FILCOMOZ.
Sunday routine
Sundays break our typical routine because our 'First Choice' café is closed, just like many other shops. So we have no choice but to make our own breakfast. We prepare it in the common kitchen and we eat together at our floor's balcony. We did this twice in a row now, and it is not that bad as a 'Second Choice'. Also, Sunday is the time to do some physical exercise. Prior to the balcony breakfast, jogging along the coast is also becoming a habit. It is also a way to be more acquainted to the neighborhood, and hopefully later Google maps will not be needed for navigation anymore.