by Lena
Drastically speaking, humanity has not yet found an answer to the question of how to safely manage human waste of cities that have grown without a fully covering sewer system. The rapid development of these cities' population, largely dependent on onsite systems such as pit latrines and septic tanks, is increasing pressure on authorities, researchers, NGOs, companies and other stakeholders worldwide to find solutions for this unresolved issue. While urban faecal sludge management has largely been ignored during the last decades, the global community does now seem to have realised its urgent importance, hence more money is made available for research. As accessibility of resources is increasing ongoing research, work and data duplication are becoming a relevant issue. Efficient research and project management must therefore include finding ways to contribute to the current state of knowledge, rather than wasting time and money. This requires being flexible enough to constantly adapt the research during the ongoing project.
Based on this principle and the interest of the World Bank to co-operate with us, we decided to contribute to filling the existing knowledge gap around the general understanding of attitudes and practises with regard to emptying of onsite systems, by conducting a household survey.
At a first stage, work hereby included agreeing on research objective and aim, conducting statistical calculations of the representative sample size, formulating the questionnaire and working out a functioning methodology to reach the proposed aim with given time and financial resources.
At a second stage, ten enumerators were elected and a two day training session was conducted to provide them with the required knowledge about sanitation and the handling of the survey instruments (Personal Digital Assistants and Global Positioning Systems) as well as the soft-skills to prepare them for their work in the field. A one-day pilot session following the training allowed to test questionnaire and proposed methodology in the field as well as to adapt both to the given conditions in Maputo.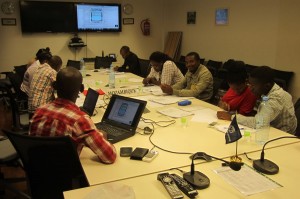 Training the handling of the Personal Digital Assistants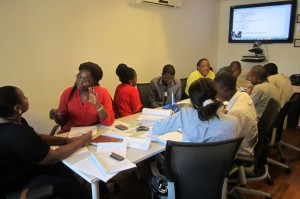 Practising the questionnaire in the group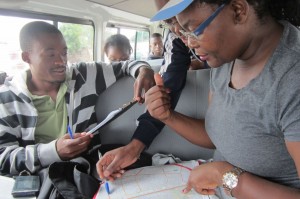 The challenge of orientation in informal settlements

Challenges of field work – being stuck in the middle of a puddle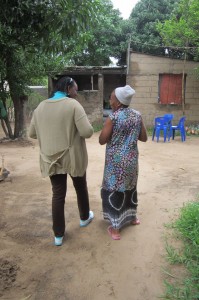 Most people are very friendly to show us around and talk to us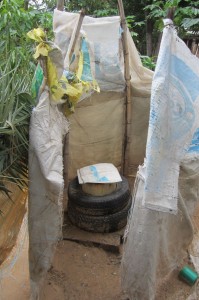 A traditional latrine – the identification of the system type is essential
The preparatory work before the first actual field day proved as challenging as interesting, requiring us to look further among the subject of sanitation, thereby allowing us to gain a deeper understanding about statistics and social science.
Working with our experienced colleagues from World Bank and the enthusiastic enumerators was especially educational and essential to successfully finalise our work.
The next weeks will bring further field work from 6am to 6pm on 6 days a week and hopefully interesting insights into why and how onsite systems in Maputo are emptied. The collected information and identified onsite systems are then planned to be used in a long-term study on filling-rates of onsite systems to gather empirical data on per-capita production of faecal sludge in Maputo.