by Lena
It lies within human nature not to question systems that work well for everyone involved. Only once problems occur, responsibilities are questioned.
In a complex system such as the city-wide supply of sanitation-services, where various public and private institutions of different interests have to co-operate, very clear regulations and role-distributions are required to enable functionality. Aiming for a successful project implementation, the full understanding of policies and the institutional set-up stands as a pre-condition. The current phase of transition hence appears as very interesting, as not too long ago, the Maputo Municipal Council (MMC) took over their initial responsibilities for the implementation of sanitation from the National Water Directorate (DNA).
The capacity- and resource-scarce municipality is now facing a series of new challenges along the sanitation service chain, indecisive about a strategy to follow. This situation is worsened by very little communication and weak relations between the two institutions mentioned above. An interesting meeting with sanitation-responsibles of the municipality allowed us further insight into this transitional process and the inherent problems. At the current start of the rainy season, the problems are especially pressuring, as drainages need to be cleaned in order to avoid flooding and the malfunctioning wastewater treatment plant of Infulene will have to cope with the additional load of storm-water.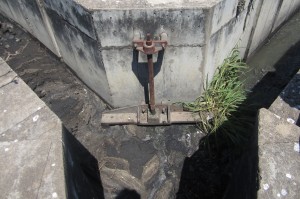 Wastewater treatment plant of Maputo.
The municipality said they are lacking human and financial capacities to fulfil the required works, and showed vast interest in any recommendations on the improvement of the system. This will be a very complex undergoing though, as the treatment plant is not only supplied with waste water but also faecal sludge from on-site systems, delivered by vacuum trucks of diverse quantity and quality.
The actual implementation of (fee-)regulations together with law-enforcement strategies will be required to enable the functionality of the system, so that in future provision of the "right to medical and sanitary services" for each citizen, as stated by the Constitution of Mozambique, can be assured.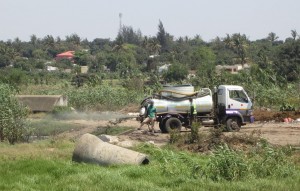 Faecal sludge being discharged into the ponds.
The upcoming presidential elections this week are though very unlikely to bring along the required changes for improvement.